---
2006 June 19

---
Future Style @ : ::::: (

) , (

) , (

) ,
"
The time of discerning Truth from Falsehood
"
"Nam simul ac species patefactast verna diei
et reserata viget genitabilis aura favoni,
aeriae primum volucris te, diva, tuumque
significant initum perculsae corda tua vi.
Inde ferae pecudes persultant pabula laeta
et rapidos tranant amnis: ita capta lepore
te sequitur cupide quo quamque inducere pergis.
Denique per maria ac montis fluviosque rapacis
frondiferasque domos avium camposque virentis
omnibus incutiens blandum per pectora amorem
efficis ut cupide generatim saecla propagent."
---
2006 June 03
---

Music Crow White Crow v.1.01 Software
Operating System: Windows - Formats: VST instrument

White Crow is an advanced phase distortion synthesizer with a very, very
distinctive sound character. --

(
O
) , (
O
)
More
in Future Style
BPM music college/
The Musicrow Group
- Ashlag 22 - 32951 Haifa - Israel ,
eMail

PreSonus Recording Interfaces Now Compatible with Apple Mac/Intel
PreSonus recording systems including (Firepod, Firebox and Inspire 1394) are now fully compatible with all Apple computers loaded with Intel processors.
PreSonus did not need to update drivers since PreSonus recording systems are class-compliant and built into the OSX operating system. However, software control panels needed to be updated and are now available for
download
.
Presonus Audio Electronics
, , tel : 225-216-7887 , Fax: 225-926-8347 - Italy Midi Music
eMail
PreSonus International Distributors

MidiSense
A DIY MIDI Sensor Interface by Limor Fried.
Limor Fried has released MidiSnse, described as "a simple, yet extensible sensor interface system for artists, musicians and others interested in experimenting with sensors."
The MIDIsense boards provide a simple way to integrate various common sensors with existing software such as Max/MSP, Ableton Live, etc. or directly to a synthesizer/sequencer with a MIDI in jack. Interface boards are available as kits . The
kit
is available for $50 including all parts.
Graphical configuration/calibration software is written in wx/Python and is available as a MacOS X executable or source for Linux. A Windows version is planned to be released soon.

New album produced by Helen Bruner & Terry Jones
All Rize "Got Soul? Then Dance" .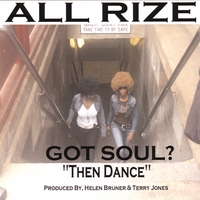 All Rize was formed by Producers Helen Bruner and Terry Jones to bring the "USB" sound (Urban Soul Beats) to dance/electronic music. All Rize consist of Brown Baby and Shyy. Got Soul? "Then Dance" is comprised of 10 tracks showcasing All Rize's powerful lead vocals, background vocal arrangements and Helen and Terry's ability to have each song tell a story while making you dance. All Rize called on two dance Diva vocalist friends Mia Cox and powerhouse Barbara Walker for Got Soul? "Then Dance" to put the lead vocals down on a soulful remake of Mia Cox #1 Billboard Hot Club single "Caught Up". Barbara Walker remakes her UK hit "Saved Me" which Barbara was nominated for an UK House Music Award for Outstanding Vocal Performance. All Rize provides their unique blend of background vocal flavor for Mia and Barbara on both tracks.

Listen (
O
) ,
Buy
it on-line
Also you can watch and listen to

Helen & Terry
performing
their song 'He Is Your Friend' live at a night club in Italy, while Joe T. Vannelli DJ's..
Philerzy Productions
,
eMail

Eva Records news
EVA Records present the remixes of Sydney Roy's 1st opus "Bedauern" (Eva 001), originally playlisted by Sven Vath and compiled by Adam X.
These remixes (Eva 005)have been made by Paul NAZCA, André DALCAN and GALLEN, and have already received good feedbacks by artists like Angel Molina (Minifunk - Sonar / Barcelona), Didier Sinclair (Radio FG / France) or Alex Millan (Hypnotic - Zebra 3 / France).
A1 : Paul NAZCA - Vision One -

(
O
)
B1 : André DALCAN - Vision Two -

(
O
)
B2 : GALLEN - Vision Three -

(
O
)
Eva records
- 6 rue de l'eglise - 67250 Schoenenbourg - France
tel + 33 (0) 6 76 22 47 36
eMail
, worldwide distribution:
Topplers
tel. +33.1.53.39.15.00,
eMail

Mark Williams – Construct Grooves
Over the last decade Mark Williams developed into a prolific producer and demanded DJ with a distinctive style that has enabled him to play at some of the most respected clubs. Mark has delivered highly respected productions for some of the world's finest dance labels including 'Ingoma', 'Phont', 'Tortured', 'Primate', 'Pure Plastic', 'Dark House' and his own labels 'Macumba' 'Real Sessions' and 'Real vinyl'. As a result of production skills it was more than logic that Monoid labelhead Alex Flatner signed him to his imprint.

Listen to
Construct Grooves
.
Circlemusic

Monoid Recordings
- Munchner Strasse 8- 82110 Germering - Germany -
eMail
, fax (+49)81892431

Buzz Audio New Distributor in Italy
Buzz Audio welcome aboard Studio Fuoriporta who are now distributing Buzz Audio products in Italy:
Studio Fuoriporta
- Riccardo Corbari via Brambilla, 2 - 27010 San Zenone al Po (Pavia) - Italy
Tel. (+39) 0382.72.96.77 ,
eMail
Buzz Audio
- 77 Kent Terrace - Wellington 6001 - New Zealand
tel/fax +64+4+385-2478 ,
eMail
,
Dealers

Musicultura Festival 2006 all' Arena Sferisterio di Macerata - Italy
Serate finali del Musicultura Festival: 23, 24 e 25 Giugno 2006.


Vintage & Music - Macerata - Italy
Sabato 17 e Domenica 18 Giugno 2006, nell'Area Fiere di Villa Potenza (Macerata)


Jazz &Swing 2006 - Rimini - (Italy)
Dal 10 al 19 Giugno 2006, a Rimini (sotto le stelle) , ingresso libero -

---
---