---
---

Akai VZ8
Softwre sampler

---

This software sampler offers the spec and performance of the hardware Z8 Performance Sampler as a
VSTi (Windows) and an Audio Unit (Mac OSX).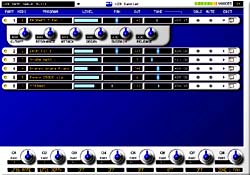 Capable of up to 24-bi t/ 96kHz performance, 64 voices for each instance and 16 audio outputs, the sampling engine of the VZ8 is almost indistinguishable from its hardware equivalent with over 30 filter types including 2, 4, and 6-pole lowpass plus various highpass, bandpass, notch reject, peak, phase shifting filters, a voweliser and an assortment of combination filters. As on the original Z8, the special 'triple' filter mode is also available to create your own outrageous and unique filter combinations
The VZ8 also features the same modulation matrix as its hardware that allows up to 35 control sources to be routed in completely variable amounts to over 50 targets. Furthermore, real-time performance control is possible through the use of the eight virtual Q-LINK controls.
Using the VZ8 within a VST or Audio Unit host is simple - just insert it into a track and immediately start dragging and dropping sounds onto it, layering up to 128 sounds across 16 MIDI channels.
Sounds can be loaded from your Mac/PC hard drive or, using the ak.Sys Disk Browser, directly from Akai sound library CD-ROMs inserted in your Mac/PC's CD-ROM drive.
Using the VZ8's Q-EDIT function, access to any sound is easy: click on the Q-EDIT triangle and a panel slides down giving access to filter cutoff, resonance and envelope times. For more in-depth editing, the VZ8 integrates seamlessly with Akai Professional's ak.Sys software. This graphic user interface gives access to all the sampler's parameters by way of an intuitive 'knobby' synth panel.

ak.Sys is much more than a simple editor: it is also a networking solution for users with multiple Akai samplers and the VZ8 can sit on this network alongside Akai Professional hardware samplers such as the Z4/8, S5/6000 and MPC4000. Furthermore, data can be transferred between these devices using simple drag-and-drop procedures. Whilst offering considerable convenience in a studio environment, this means that work created on the VZ8 can be transferred to an Akai Professional hardware sampler for use live.

Specs

24-bi t/ 96kHz operation (polyphony is halved at 96kHz).

Up to 64-voice polyphony (depending on the host processing power) for each VSTi/AU instance

Up to 16 audio outputs for each instance.

Each instance allows up to 128 layers assignable to 16 MIDI channels.

Multiple instances can be opened (depending on the host processing power)

Q -EDIT allows quick access to key parameters for isntant tweaking.

Virtual assignable Q-link knobs for real-time perfomance control. These controls' movements can be recorded to the host sequencer.

Full program editing available using Akai Professional's ak.Sys software.

Disk browser integrated within ak.Sys allows the use of your PC/Mac CD-ROM for sound library loading

True compatibility with S1000, S1100, S2000, S3000, S3000XL, S5000, S6000, Z4 and Z8 sound library formats.

Network VZ8 software samplers and Z4/8, S5/6000 and MPC4000 hardware samplers on the ak.Sys network with drag and drop data compatibility between them.

34 resonant filter types (2, 4 and 6-pole lowpass plus various highpass, bandpass, notch reject, peak, phase shifting filters, a voweliser and an assortment of 'combo' filters).

Special 'triple filter' mode offers three separate multi-mode filters per voice that allow you to create your own filter combinations.

Three envelope generators (two multi-stage, one ADSR) per voice.

Two multi-wave, MIDI syncable LFOs with variable waveform phase and shift.

Comprehensive modulation matrix that allows you to route up to 35 control sources to over 50 targets.

Velocity switching and continuous controller crossfading between zones.

Portamento, Glissando and Mono Legato functions allow you to emulate monophonic analogue synthesisers.
---