Newest version of professional digital audio recording, editing and mastering software
This new Sound Forge version includes many new powerful features and enhancements, including nondestructive audio editing, multitask background rendering, 32-bit/64-bit float/192kHz file support, enhanced DirectX plug-in management, QuickTime and Windows Media format import and user interface enhancements.
Sound Forge 6.0 includes an extensive set of customizable processes, effects and tools for manipulating audio, and supports a wide range of audio and video file formats, including Windows Media, RealMedia, QuickTime and MPEG 1&2.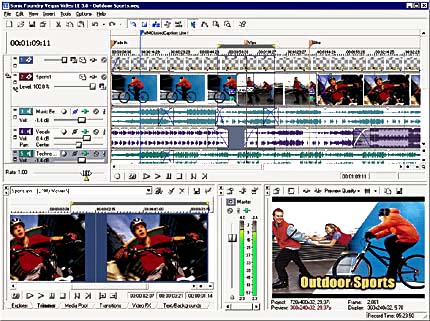 New in Sound Forge 6.0:
Powerful and fast nondestructive audio editing
Cut, Paste, and Delete audio with speed and accuracy, down to the sample level. Nondestructive edits happen immediately
Multitask background rendering.
Users can save valuable time by continuing production : Open, Play, Preview, Cut, Copy, Paste, and Delete files while other project files render in the background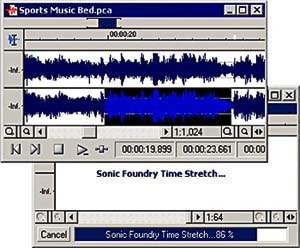 32 bit/64-bit float/192kHz file support
Sound Forge 6.0 now supports full resolution 32-bit files for high audio quality. Import and save high-resolution 32-bit files, even record 32-bit files if your hardware supports 32-bit recording.

Audio Effects
Over 35 audio effects, including DirectX Audio Plug-Ins from Sonic Foundry's XFX 1, 2, and 3 series.
Included three EQ's, Amplitude Modulation, Chorus, Delay/Echo, Distortion, Dynamics, Time Compression/Expansion, Flange, Pitch Bend, Reverb, and more
Enhanced Preset Manager
To back up, transfer, and organize your favorite presets. You can even use it to control your favorite ACID and Vegas presets.
Wave Hammer Mastering Tools to create audio masters.
Wave Hammer includes a classic compressor and volume maximizer, allowing you to limit the dynamic range of your audio and add punch to your recordings. Boost overall signal levels without clipping or distorting your sound, or limit a signal's peak amplitude.

Spectrum Analysis Tool to analyze waveforms by frequency and help identify noise problems.
CD Ripping and Track-at-Once CD Burning
Enhanced time zoom (24:1) for increased editing accuracy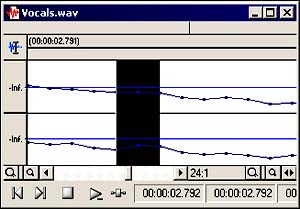 Customizable zoom ratios
New Modeless Audio Plug-In Chainer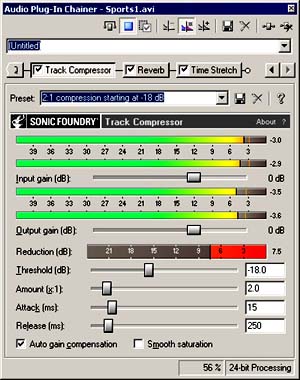 New Customizable DirectX Favorites menu for plug-ins
New DirectX Plug-In Manager
QuickTime and MPEG-1&2 file import ( MPEG-1&2 support requires the purchase of the MainConcept MPEG ) plug-in
Windows Media format import
Fully customizable toolbars
Tabbed docking windows
New audio playback options

New video saving and render options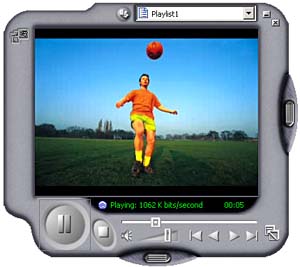 Enhanced video preferences
Full support for files 4 GB and larger
User interface enhancements
FREE Vegas Video LE 3.0 Multitrack : Sound Forge6.0 includes a free streamlined version of Vegas Video 3.0 (Vegas Video LE), Sonic Foundry's professional multitrack digital video and audio editor.
Specifications Features
General Editing Features
Simple and powerful audio editing and navigation
Nondestructive audio editing
Intuitive windows interface
Sample rates from 2 kHz to 192 kHz
Full support for 4 GB and larger files
8-bit, 16-bit, 24-bit, 32 bit audio file support
Enhanced time zoom (24:1 ratio) for increased editing accuracy
Customizable zoom ratios
Drag-and-drop operations
Automatic left and right mono to stereo merge
MIDI controls
Customizable toolbar
New audio playback options
Mix, paste, and crossfade
Overview window
Undo/Redo histories
DirectX Plug-in Manager
New Modeless audio plug-in Chainer
Audio event locator
Keyboard shortcut commands
Over 35 built-in effects & processes
System- and user-defined function presets
Multiple-level undo and redo
Preset workspaces
Enhanced Preset manager
Effects previewing
Crash recovery
Snap to zero Cross
Pencil Mode for drawing wave data
Zoom in, zoom maximum or minimum
Vertical zoom
Spectrum analysis
Voice over mixing with fade-in tuning for overlap.
Preview cuts prior to removing data
Mark-in, mark-out, drop markers in real time
Embed URL flips within audio and video stream
Video and AVI file support with frame-accurate audio editing
DirectX Plug-In Support
Embed summary information in files
Mono and stereo sound files
Real-time play and record meters
Save files in the latest multimedia and Internet file formats
Standard keyboard commands, mouse shortcuts, and toolbars
Processes
Auto Trim/Crop
Mute
Channel Converter
Normalize peak or RMS Level
Stereo Pan/Expand (supports mid-side mixing)
Graphic, Paragraphic, and Parametric EQ
DC Offset
Resample
Reverse
Graphic Fade with noise-shaping and dithering
Smooth/Enhance
Fade In/Out
Time Compress/Expand
Insert Silence
Volume
Invert/Flip
Bit Depth Converter (to 8-bit, 16-bit, 24-bit, or 32-bit)
Effects
Acoustic Mirror
Amplitude Modulation
Chorus
Distortion
Delay/Echo (Simple and Multi-Tap)
Graphic Dynamics
Multi-Band Dynamics
Envelope
Flange/Wah-Wah/Phaser
Gapper/Snipper
Noise Gate
Pitch Bend/Shift
Reverb
Vibrato
Wave Hammer Compressor/Volume Maximizer
Tools
Track at once CD burning
CD Ripping
Spectrum Analysis
Auto Region (using beats and measures, or peak detection)
Crossfade Loop
Extract Regions
Find Tool
Enhanced Preset Manager
Sampler Tool
Statistics Tool (Max, RMS, DC offset, Zero Crossings)
Simple Synthesis
FM Synthesis
DTMF/MF Tone Synthesis
Tools for ACID
Create ACIDized loops
Loop-editing toolbar
Assign root notes, number of beats, and tempo
Regions and Playlists
Nondestructive playlist
Name markers, loops, regions
Trigger with sequencers
Trigger with MIDI event-generating devices
Trigger with time code-generating devices

Sample Editing
Pop-up MIDI keyboard to test samples
Sustaining Loop
Release Loop
Real-time loop tuning window
Generate/Receive MIDI Time Code
SCSI/SMDI or MIDI/SDS sample transfer
Sustaining Loop, Release Loop
Recording
Auto calibration for DC Offset
Generate SMPTE/MIDI Time Code
Glitch/Gap Detection
Punch In option
Real-time record meters
Remote record function
Timing Basis
Absolute Frames
Measures and Beats
Samples, Time, Seconds
SMPTE Drop/Non-Drop
SMPTE EBU/Film Sync
Time and Frames
Video Support
FREE Vegas Video 3.0 LE
Enhanced video preferences
New option to compensate for non-square pixels in Video preview window
Display exact video frame animation above waveform
.MOV and MPEG-1 and MPEG-2 (MPEG-1&2 support requires the purchase of the MainConcept MPEG plug-in) format import
Windows Media Video format import
External monitor support using DV and IEEE 1394 devices
Maintain perfect sync while working with full NTSC and PAL video
Sound and video synchronization with sub-frame accuracy
Various video and audio compression options
Supported File Formats (open and save), Extension
AIF/SND: Macintosh AIFF
AU/SND: NeXT/Sun (Java) (PCM, µ-Law)
AVI: Microsoft Video for Windows
DIG/SD: Sound Designer 1
IVC: Intervoice (ADPCM, µ-Law, A-Law)
MOV: Apple QuickTime Movie
MP3: MPEG-1 Layer 3 (Audio)
MPG (MPEG-1&2 support requires the purchase of the MainConcept MPEG plug-in): MPEG-1 or MPEG-2 Video
OGG:Ogg Vorbis
PCA: Sonic Foundry Perfect Clarity Audio
RAW: Raw Files (8- and 16-bit data: signed, unsigned, and Motorola and Intel byte ordering)
RM: RealNetworks RealAudio 8.0 (only save)
RM: RealNetworks RealVideo 8.0 ( only save)
SND: Sounder/SoundTool
VOX:Dialogic VOX (ADPCM)
W64: Sonic Foundry Wave 64
WAV: Microsoft Wave
WMA: Microsoft Windows Media Format
WMV: Microsoft Windows Media Video
System Requirements
200 MHz processor
Windows-compatible sound card
CD-ROM drive (for installation from a CD only)
Supported CD-Recordable drive (for CD burning only)
24-bit color display recommended
32 MB RAM
25 MB hard-disk space for program installation
Microsoft Windows 98SE, Me, 2000, or XP
Microsoft DirectX 8 or later
Internet Explorer 5.0 or later
---
Us$499.95, but it is offered direct from Sonic Foundry for $399.96 as a download
Us$449.95 for boxed product
Registered users of Sound Forge 5.0 can upgrade direct from Sonic Foundry for only $149.95

---
Sonic Foundry Corporate Headquarters, 1617 Sherman Ave. , Madison, WI 53704 (Usa), e-mail