Mark of the Unicorn
Motu 896 HD
FIREWIRE Audio Interface
---


24-bit
Analog I/O :192kHz

sampling rate


Built-in sample rate conversion allows you to connect 44.1, 48, 88.2 or 96kHz devices
Stereo AES/EBU
Standard 1394 'FireWire' ports: no PCI or PC cards to install
Expandable: two FireWire ports for daisy-chaining
Includes AudioDesk workstation software for the Macintosh

---
.....
OS9, OSX (version 10.2 or higher)

Mac and PC
OS supported


WinMe, Win2K, WinXP
---

The 896HD is equally well-suited for studio and stage, with or without a computer. As a computer interface, the 896HD provides 18 separate inputs and 22 outputs, including separate main outs and headphone out.
You can add additional send/return loops using the 896HD's new CueMix DSP on-board mixing feature, a flexible DSP-driven 18-input/8-bus mixing and monitoring matrix that eliminates the need for an external mixer or patchbay. Connect all of your studio gear, including microphones, guitars, synths, keyboards, drum machines and even effects processors. Then monitor all of these live inputs via the 896HD's main outs, headphone jack or any other output .
Live on stage? Program the 896HD at the studio with the CueMix Console software and then take the 896HD on the road for mixing/monitoring without a computer. Bus levels can be adjusted without the computer by using the front panel Monitor Level knob.
In the studio, 8 channels of ADAT optical digital I/O, plus stereo AES/EBUare available for a digital mixer. All digital I/O connections support standard sample rates up to 96kHz.
The 896HD provides cross-platform compatibility with Mac OS 9, Mac OS X (version 10.2 or later) , Windows Me/2000/XP and all of your favorite audio software and host-based effects via WDM/ASIO/Core Audio/Sound Manager drivers. Or you can use the included AudioDesk workstation software for Macintosh, with 24-bit recording/editing and 32-bit mixing/processing/mastering.


---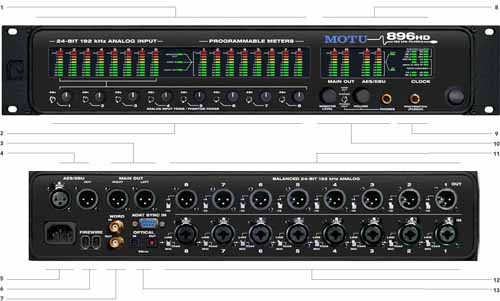 1 - Activity meters
Large ten-segment meters display all analog input activity with software controlled peak and clip indicators. Programmable meters allow you to view analog output, ADAT input or ADAT output.

2 - Front-panel input trims
Independent control of input gain for all eight 24-bit, 192kHz inputs. Each input has its own front-panel 48-volt phantom power switch.

3 - Main outputs
Connect powered monitors directly to these jacks and separately control your main mix and monitor levels with convenient front-panel knobs.

4 - AES/EBU digital I/O with SRC
Stereo AES/EBU input and output. Built-in sample rate conversion allows you to connect 44.1, 48, 88.2 or 96kHz devices, regardless of the system sample rate.

5 - International power supply
Built-in international power supply accepts 110-220v on a standard IEC cable.

6 - Standard 1394 'FireWire' ports
Connect your FireWire-equipped computer here. No PCI or PC cards to install , just plug in and go. MOTU FireWire interfaces are expandable; the second FireWire port allows you to daisy-chain more devices without the need for a FireWire hub.

7 - Word clock
Word clock input and output for synchronization with a wide variety of digital devices, or a centralized word clock source.

8 - System meters
Dedicated meters for main outputs plus programmable meters for digital AES/EBU input or output activity. Clock indicators display sample rate, clock source and rate conversion.

9 - Hands-free punch in/out
Connect a pedal for hands-free punch in and out.

10 - Volume controls
Volume control can optionally control level to main monitors as well as headphones.

11 - Eight balanced outputs
Each XLR output is individually switchable for +4 or -10dB levels.

12 - Eight mic/line/instrument inputs
Neutrik connectors accept XLR or 1/4" inputs. Plug in a mic, guitar or synth to 24-bit, balanced or unbalanced 192kHz inputs. Each input is switchable to accept mic or line level signals, with additional front-panel trim , or completely bypass the trim circuit with the +4/fixed setting.

13 - ADAT optical I/O
Eight channels of ADAT optical (lightpipe) input and output. Connect a digital mixer, ADAT or additional A/D/A converter. Also supports four channels of 88.2 or 96kHz audio. ADAT Sync port provides sample-accurate sync for compatible devices.

---
---


Features


CueMix DSP latency-free monitoring system.
Stand-alone operation: program your mixes at the studio and then bring the 896HD to your gig; no computer needed.
Multiple CueMix DSP mixes : create different monitor mixes for the main outs and headphones. Add send/return loops for outboard gear with no latency. Up to four separate mixes are supported (two at 176.4 or 192kHz).
Eight mic pre-amps with switchable 48-volt phantom power and front-panel trim controls.
18 inputs / 22 outputs : there's no channel sharing in the 896HD; the analog inputs, optical inputs, AES/EBU I/O, headphone out and main outs are all handled as separate channels. At 176.4 or 192 kHz, main outs and headphone are mirrored.
8 channels of 24-bit ADAT optical input/output. Eight channels at 44.1/48kHz. Four channels at 88.2/96kHz.
Sample-accurate digital transfers between ADAT digital tape decks and the computer via the ADAT sync port.
Expandable: add additional 828, 828mkII, 896 or 896HD FireWire interfaces for additional I/O.
Eight 24-bit 192kHz analog inputs on XLR/TRS combo jacks.
Eight 24-bit 192kHz analog outputs on XLR jacks.
Separate XLR main outs and front-panel headphone jack, each with independent volume control.
Stereo 24-bit 96kHz AES/EBU in/out
Word clock in and out
Includes drivers for Mac & PC, including ASIO, WDM, Wave, GSIF, and Core Audio. Supports all popular Macintosh and Windows audio software.
100% compatible with all host-based effects processing in today's popular audio programs.
Includes AudioDesk workstation software for the Macintosh with recording, editing, mixing, real-time 32-bit effects processing & sample-accurate sync.
Two FireWire ports for daisy-chaining without a hub
Front panel volume control for main outputs.
Front panel headphone jack with independent volume control.
Programmable front panel meters for all analog and digital I/O

---
In / Out


input

output

---

analog 192kHz analog I/O on Neutrik combo/XLR

8

8

---

main outputs 24-bit 192kHz on XLR

stereo

---

headphone output

**

stereo

---

ADAT optical (digital)

8

*

8

*

---

AES/EBU 24-bit 96-kHz (digital)

stereo

stereo

---

total

18

22
All inputs and outputs are discrete
**
: the main outs do not 'steal' channels from analog outputs 1-8, and the headphones outputs are also available as separate mix destinations. They do not have to 'mirror' another output (although you can program them to mirror any output pair you wish).
* 4 channels at 88.2 / 96kHz
** at 192/176.4 main and headphone outputs are mirrored

---


CueMixDSP

The 896HD provides DSP digital mixing and monitoring for all 18 inputs. You can connect mics, guitars, synths and effects processors, and monitor everything from the 896HD's main outs or headphone jack with no separate mixer needed and no latency.

The 896HD supports up to four separate stereo monitor mixes assigned to any four digital or analog output pairs (two stereo busses are supported at 176.4 or 192kHz). For example, you could set up separate monitor mixes for the main outs and headphone outs, while two additional stereo busses could be used for send/return loops to reverb units or other outboard gear. Each mix can support all 18 inputs (8 combo XLR/TRS analog, 8 ADAT optical digital and stereo AES/EBU digital).

A new "CueMix Bounce Back" feature (not available at 176.4 or 192kHz) lets you route one of the four CueMix DSP mixes back to the computer. This allows you to record, for example, your entire mix (including monitored inputs) back into the computer.


---
---
---
---
---
---
---
---
---
---
MOTU AUDIO INTERFACES

828mkII
896HD
HD192
2408mk3
308
24I/O

---

analog inputs (channels)

8 TRS
2 mic

8 mic/line

12

8

-

24

analog outputs (channels)

8 TRS
2 main
2 phones

8 XLR

12

8

-

24

S/PDIF RCA (channels)

2

-

-

2

8

-

S/PDIF optical (channels)

2 (shares port with ADAT optical)

-

-

-

8

-

AES/EBU (channels)

-

2

2

-

8

-

Tascam TDIF (channels)

-

-

-

24

-

-

ADAT Lightpipe (channels)

8

8

-

24

-

-

sampling rates

44.1, 48, 88.2, 96K

44.1, 48, 88.2, 96, 176.4, 192K

44.1, 48, 88.2, 96, 176.4, 192K

44.1, 48, 88.2, 96K

44.1, 48K

44.1, 48, 88.2, 96K

protocol

FireWire

FireWire

AudioWire

AudioWire

AudioWire

AudioWire

rack spaces

1U

2U

2U

1U

1U

1U

expandable

yes

yes

yes

yes

yes

yes

core system price

$795

$1295
Euro 1.800

$1895

$995

-

$1495

expansion I/O price

-

-

$1595

$695

$695

$1195
---

Motu 896 HD : euro 1,060


---
---
---
---
---
---
---

Mark of Unicorn contacts:
Mark of the Unicorn -1280 Massachusetts Avenue- Cambridge, MA 02138
tel. 617.576.2760, fax 617.576.3609, e-mail

Italy Backline - tel. +39 02 6901 5709
Argentina Sonido Professional tel. +5411 4375 0116 E-mail
Austria Klemm Music tel. +49 55 0493 590 - E-mail
Australia Intelliware tel. +61 88277 1722
Belgium Ampco - tel. +32 3 844 67 97 - E-mail
China Eastern Edison - tel. +8610 6253 4613 - E-mail
France UM Distribution - tel +33 1 48 05 83 71
Germany Klemm Music - tel. +49 55 0493 590 - E-mail
India S.U.N. Media - tel. 91-22-8843772
Japan Musetex/Orbit Ltd - tel. +813 5486 7021 - E-mail
Mexico Audio Sistemas - tel. +525 531 2992 - E-mail
Switzerland PEK AG - tel. +411 431 8282 - E-mail



---