Plasma lets you quickly record, edit, arrange, and mix your music. It doesn't matter what you want to record: keyboards, vocals, live turntable scratches, CD samples, or any other sound source. It provides : click-and-drag looping; multitrack recorder; joystick-controlled DJ effects mixer; software synths; audio effects; and CD loop library created by leading Dance, Techno and Hip Hop producers. And you can do it all on the PC you already own .... no expensive hardware is required.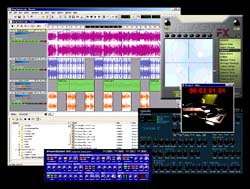 Includes free
Plasma FXPad joystick-controlled DJ FX plug-in
DreamStation DXi & Triangle DXi soft synths
Bonus CD! Dance and Hip Hop loop library
Pyro Express CD maker & WAV ripper




Music & remixes

1. Just click and drag to create grooves from the included CD library of loops by leading Dance & Hip Hop producers. These loops are always in tempo and always in key so you know you'll sound good. More fuel for your productions from other Cakewalk Loops collections, or any ACID-compatible loop CD.
2. Rip your favorite songs off of CD, import MP3s or make your own tracks with loops, any instrument, or your voice.
3. Point-and-click tools make it easy to cut up tracks, rearrange them, and then add new beats, effects, and synth parts to make your own remix.
When you're done you can share your music with your friends. Burn it on CD using the included Pyro Express CD creation software. Or create MP3 (includes 30-day trial MP3 encoder) , Windows Media files, wav, to put your music on the internet.




Get looped

Easily create loop-based compositions or add new sonic layers alongside your live-recorded tracks.
Quickly load and audition the included Cakewalk Loops in the tempo and key of your project while it plays back. Then just click and drag to paint your canvas of sound. Even make your own loops from any MP3 or WAV file. Opens and reads ACID-format audio loops too.
Rip & Burn
Use the included Pyro Express to rip tracks off of CD to remix in plasma. And when your finished with your mixes you can burn them to CD.
Create DJ effects

The Plasma FXPad is a joystick-controlled DJ effects generator for the PC. Grab your joystick or mouse to "morph" the music. You can record every move you make and play it back later. A $29 value when sold separately. Available additional effects like Chorus, Reverb, Flange, EQ, Delay and other audio effects. Or add hundreds of other available DirectX-compatible audio plug-ins (latest news on DirectX audio software and for free downloads)
Synth sounds

Plasma comes with two built-in software synthesizers, with hundreds of sounds to choose from and the ability to create your own. Add analog-sounding Techno, Hip Hop, and ambient textures to your music.
DreamStation DXi recreates the sounds of analog-style synthesizers, modeling analog circuits and oscillators, like a vintage hardware synth.
Triangle II DXi: for bass and lead sounds, Triangle II DXi features quality and flexibility.
Expand your pallete of sounds : additional DXi synth modules are available separately from Cakewalk, Native Instruments, and other soft synth manufacturers.



Point-and-click MIDI tools
Composing and graphically editing MIDI tracks is easy in Plasma 2003. Just point and click to insert, copy, move, delete or modify MIDI notes. No musical experience required.



Make Music Videos

Plasma lets you create and edit soundtracks and soun effects for AVI digital videos. Useful for creating your own music videos and for spicing up home movies.






System Requirements
Windows 98, 98 SE, Me, 2000, XP
300 MHz processor
64 MB RAM
100 MB free hard disk space
800x600 screen resolution/256 color display
CD-ROM drive (for installation)
MIDI interface and/or Windows-compatible sound card
Note: Plasma is not compatible with Windows 95 or NT



---

Cakewalk Plasma 2003: Us$49.00
Cakewalk Plasma 2003- for registered Cakewalk customers: regular price: Us$29.00, sale price: Us$19.00

---
---

Cakewalk - 51 Melcher Street - Boston, MA 02210 Usa- Phone (617) 423-9004

Selected wordwide contacts:

Italy - MIDI Music , Torino Email

Australia & New Zealand - Intelliware Australia, Ewardstown SA Email
China & Taiwan- Taipei, Taiwan Email
Hong Kong - Tom Lee Music, Tsimshatsui, Kowloon Email
India - ProMusic, Egmore, Chennai Email
Japan - Edirol Corp., Hamamatsu, Tel: 81-53-439-1144
Korea - MIDI LAND, Seoul Email
Belgium, Netherlands & Luxembourg - Interphase, Boom, Belgium Email
Eastern Europe -Amecon Multimedia, Newburyport, MA,Usa Email
Finland - Carbon Music, Tuusula Email
Germany , Austria - Klemm Music , Friedland, Germany Email
Greece -ELINA , Athens Email
Norway -Ibsen Studio, Molde Email
Spain - Microfusa, Barcelona Email
Portugal - Jardine Computers , S. Pedro da Cova Email
Switzerland - STG Distribution , Geneva Email
UK & Ireland - Et Cetera Distribution, Haslingden Email
Brazil - Quanta MIDI and Software, Campinas / SP Email
Canada - Thinkware Canada, Quebec Email
Ecuador - Audiomax, Guayaquil Email
Mexico - Hermes Intern. Pharr, TX, Usa Email